IEEE PES Kerala Chapter jointly with LMAG, WiE and YP of IEEE Kerala Section organised a two day Energy Conservation Program for the community in Veeranakavu, near Kattakkada on 21 and 22 December 2017. The Community got support from Energy Management Centre (EMC), ANERT and Centre for Environment and Development (CED).
The program started with the inauguration of an Exhibition of Energy and Energy Conservation related slogans and displays and a power measuring instrument which can measure wattage of different types of lamps. This measuring kit was supplied by EMC. This gave a comparison of incandescent, CFL and LED lamps and also comparison of "zero watt" LED and incandescent lamps.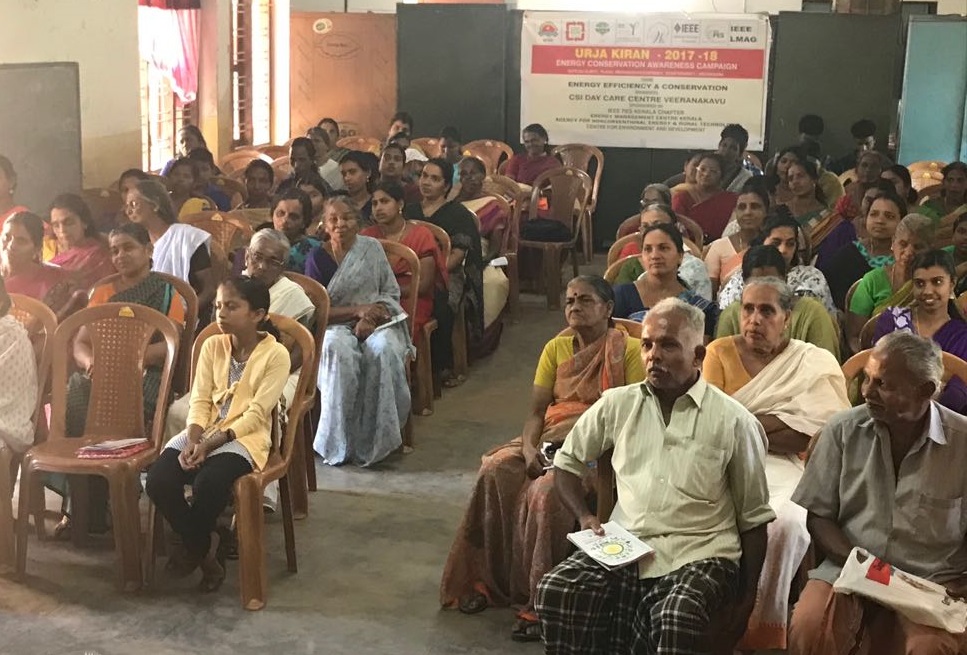 The program on Thursday 21 Dec 2017 was inaugurated by Sri P. Manikantan, Chair of Health and Education Standing Committee of Poovachal Grama Panchayat and presided by Sri A.G. Hareendralal
Chair PES Kerala Chapter. Smt Sanooba Beevi, Headmistress and Ms Premalatha teacher of the Veeranbakavu School offered felicitations.  Sri A.G. Hareendralal explained to them the differences among the three types of lamps and how LED lamps with its high efficacy and long life compared to incandescent lamps and CFL, stands a good chance in reducing the energy bill despite its high initial cost. The first day was mainly attended by students of the community.
The second day program on Friday 22 Dec 2017 started with the registration of the participants. 83 persons, mostly women folk registered for the event and the program started at 10.30 am. The
meeting was presided by Fr Gnanadas, Presbyter, CSI Church Veeranakavu. Sri George, President of Development Committee, CSI Day Care Centre, Veerankavu welcomed the gathering. Sri K.
Ramachandran, President, Poovachal Grama Panchayat inaugurated the function. Sri A.G. Hareendralal, delivered the key note address and gave an overview of impacts of careless use of energy on the environment, global warming and climate change and stressed the importance of Energy Conservation and its effects on the planet. Sri P. Manikantan, Chair of Health and Education Standing Committee of Poovachal Grama Panchayat offered felicitations.
Sri M.K. Mehboob, an Energy Consultant and Resource Person of EMC gave a presentation on "Energy Conservation for the Future Generations", giving detailed presentation on the need of
Energy Conservation. With the help of the Power Measuring Kit, he compared the three types of lamps, its efficacy, life and cost and how LED can decrease ones energy bill. He also gave in depth
ideas about how the energy consumption in ones house can be reduced, with subsequent reduction of energy bill, taking the case of each of the equipment used in the house, in addition to lamps: Fan,
Refrigerator, Washing Machine, Wet and Dry Grinders, Induction Cooker, Microwave Oven, Electric Iron etc. One LED bulb reach was donated to the participants and requested them to replace one of
the incandescent lamps they are using in their house and if possible to replace all the incandescent lamps and CFL using LED lamps gradually.
The participants were requested to bring with them the latest energy bill and the bill amount was noted in a register against their names. There was suggestion to continue the program with a gap of
two months for one year and comparing their energy bills and give prizes for those who reduce their bills maximum. Mr Mehboob mentioned about incentives programs of EMC and McDonald to those who are reducing their energy bills.
After the lunch, there was projection a few short films on Energy Conservation. The program ended at 3.30 pm followed by oath taking ceremony led by Mr Hareendralal A G in which all of them took the oath of following and spreading energy conservation programs. All the participants were very much enthusiastic about the program and expressed their willingness to reduce their energy bills and to attend future programs.