A membership development initiative by IEEE PES Kerala Chapter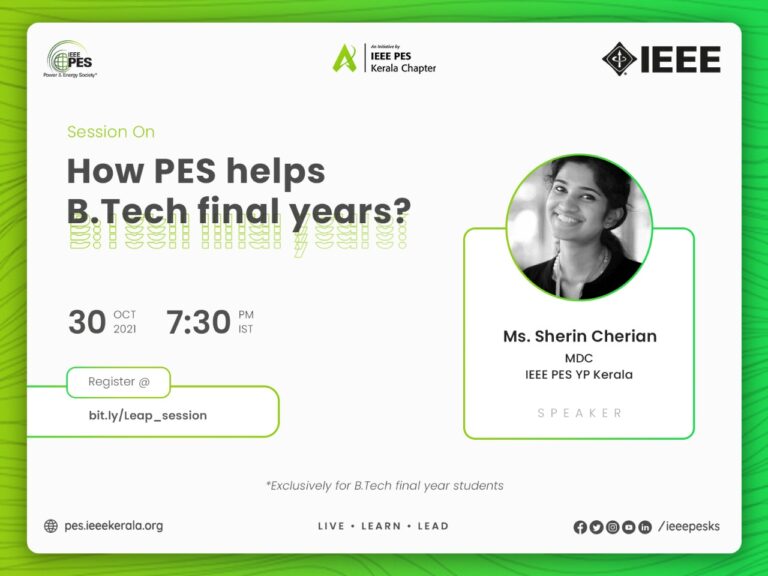 As part of LEAP -Live Learn Lead, a Membership Development Initiative of IEEE PES Kerala Chapter, we present before you a session on
"How PES helps B.Tech final years ?"
📅 Date: 30th October 2021
🕖Time: 7:30PM (IST)Our
Speaker
Ms. Sherin Cherian
Membership Development Co-ordinator, IEEE PES YP Kerala.
📌 Exclusively for B.Tech final year students.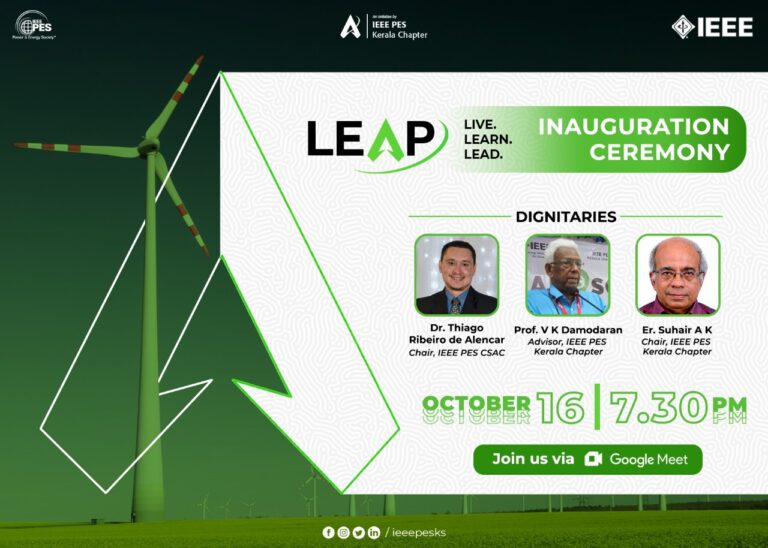 IEEE PES Kerala Chapter wholeheartedly invites you for the inauguration ceremony of LEAP – Live Learn Lead , a membership development initiative for all PES SBCs of Kerala Chapter.

📅Date: 16th October 2021
🕖Time: 7:30-8:45 PM (IST)

LEAP – Live, Learn, Lead is a membership development initiative by IEEE PES

Kerala Chapter.

 

All the registered PES SBCs will work together and coordinate together for conducting programs.

 
The activities will primarily focus on the member's technical, educational

and leadership skill development.

 
Activities that benefit all PES members of IEEE PES Kerala Chapter.

Thereby renewing their membership and keeping the retention rate.
Building better relations among PES SBCs and IEEE PES Kerala Chapter.

 

Activate all PES SBCs and to create more collaborated events.

 

Create more volunteers and thereby enhance their leadership quality.

 

All the PES members are aware of the benefits and opportunities of IEEE PES.

 

PES members are getting updated with current techniques and develop

ment of soft skills.

 

All the PES SBCs can improve their chances for HPSBCP 2021 funding.

 

Impact oriented programs.

 

Membership Development and retention growth.
National Institute of Technology Calicut
College of Engineering Adoor
Government Engineering College Idukki
Christ College of Engineering Irinjalakuda
Sree Chitra Thirunal College of Engineering
College of Engineering, Cherthala
College of Engineering Vadakara
College of Engineering Munnar
TocH Institute of Science and Technology
Rajagiri School of Engineering & Technology
Sahrdaya College of Engineering and Technology
College Of Engineering, Thalasserry
College of Engineering Perumon
Marian College of Engineering Trivandrum
Adi Shankara Institute of Engineering and Technology
MEA Engineering College, Perinthalmanna
College of Engineering Thiruvananthapuram
LBS College of Engineering Kasargode
Rajiv Gandhi Institute Of Technology
Vimal Jyothi Engineering College, Chemperi, Kannur
St. Joseph's College of Engineering and Technology, Palai
Mar Baselios Christian College of Engineering and Technology
College of Engineering, Attingal
Jawaharlal College of Engineering and Technology
Government Engineering College, Thrissur
Mar Baselios College of Engineering and Technology
TKM College of Engineering
KMCT College Of Engineering
College of Engineering Karunagappally
College of Engineering Trikaripur
College of Engineering Chengannur
NSS College of Engineering Palakkad
Musiliar College of Engineering Chirayinkeezhu
MES College of Engineering Kuttippuram
Cochin University of Science and Technology
Federal Institute of Science And Technology
Saint Gits College of Engineering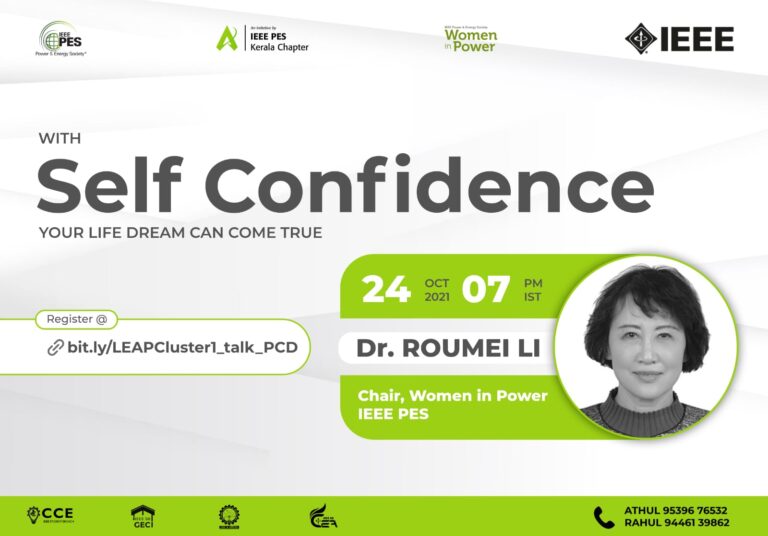 IEEE PES SBCs of NITC, CEA, GECI, CCE in association with Women in Power is jointly organizing a talk on:
With Self Confidence, Your Life Dream Can Come True
Speaker : Dr Ruomei LI, Chair, Women in Power, IEEE PES, IEEE Senior Member
🗓️ 24 October 2021
🕖 7.00 pm IST